Nurturing the Whole Child since 1986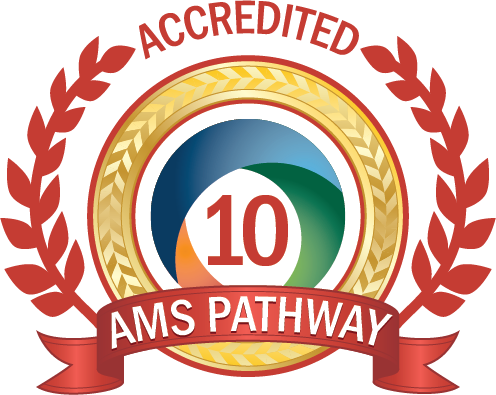 Accredited Montessori Education
Whole Earth Montessori is a AMS accredited member school. The American Montessori Society leads, empowers, and serves the global community of Montessori educators as the foremost advocate for research and policy, ongoing teacher education, and standards of accreditation through opportunities for mentored individual growth, collaboration, and member engagement.
Ages 3-6: The Age of the Absorbent Mind
11:1 Student-teacher ratio, class size of 22 with two teachers. All programs are 5-days/week with an early release during parent teacher conferences. We offer half (mornings only) and full day options.
At age 3, children begin to develop order, concentration, coordination, and independence by being introduced to lessons that mimic daily Life, such as taking Care of self, environment, and grace and courtesy lessons. The E.C. students are encouraged to think for themselves by working independently and in small groups of 2-3. The goal of a Montessori classroom is to build intrinsic motivation, curiosity, and love of learning in every child.
Grades 1-3: The Age of Imagination and Interests
12:1 Student-teacher ratio, class size of 24 with two teachers. The program is 5-days/week with an early release during parent teacher conferences.
The elementary child has reached the stage of development where they like to know the cause and effect of everything surrounding them. The lower elementary child begins to develop abstract thinking skills and imagination with the guidance of the Five Great Lessons. Our program continues to feature small group and one-on-one lessons, with a focus on building a community within this group.
Grades 4-6: The Age of Abstract Thinking and Industry
15:1 Student-teacher ratio, class size of 15 with one teacher. The program is 5-days/week with an early release during parent teacher conferences.
The child has moved beyond cause and effect to "how." The focus in this age group is to make sense of the incoherent data and ideas they are experiencing in the world. Social interactions are fundamental, and we honor this by offering more collaborative group projects. Students are expected to plan their daily schedules in one-week increments.
All levels receive specialist instruction in art, gardening, health education, music, and Spanish.
In Montessori education, consistency is essential in developing the child's sense of order and responsibility. Children genuinely feel that the classroom is their second home and desire to maintain and care for it. At this formative age, routine is of the utmost importance. Consistency is the foundation for learning in the future. Often, the problems that arise later (such as lack of discipline or concentration) are a direct result of failing to provide a consistent basis for education.
Why Montessori for Kindergarten?
Montessori is one of the most developmentally appropriate models for teaching early childhood and elementary education. The primary reason to keep your child in Montessori for Kindergarten is to complete their maturation, from the youngest student in the classroom to the oldest. This process gives children the opportunity to develop both academically and socially. As Dr. Maria Montessori says, "The child is like a flower that needs to be tended. Once it starts to bloom, it must continue to be stimulated and cared for, as it has been from the very start." Science continues to validate the procedures and methods Montessori invented and have been in practice for over 100 years.
WEM has carefully designed its programs to help each child complete their journey from a wonder-filled childhood to a self-assured, optimistic adulthood. WEM's Early Childhood Program occurs in a three-year cycle. In our Early Childhood Program, preschool-age students and kindergarten students learn together in the same classroom. Authentic, mixed-aged Montessori classrooms are vibrant with developmentally appropriate materials, teaching methodologies, and individualized instruction. Intellectually rigorous yet nurturing. In multi-age classrooms, students inspire each other!
The three-year cycle also occurs in our Lower and Upper Elementary program. Elementary students in 1st to 3rd grade or 4th to 6th grade share a single classroom. Children of all ages naturally absorb the lessons presented around them. Individual instruction deepens learning intensity. Student-driven discovery fuels academic and social development.
This inclusive structure offers many benefits. Children can progress at their own pace without grade-level stigma. Younger children learn from older children and aspire to engage with what their peers are doing. In turn, older children further their mastery of subject matter and receive immeasurable academic confidence by acting as teachers to younger children. Mixed-aged classrooms also assist in developing more persuasive social and emotional skills by creating societies within the classrooms where all children have input and agree upon the rules that will govern their community.
What are the parents saying?
recommends
WEM has gone above and beyond to make us feel safe to send our kids to school. Our oldest started school at the beginning of the school year at WEM back in 2019-2020. We were excited to have a new routine but when COVID happened, we didn't know what to expect. While other school were closing down WEM stepped up to offer individual and group lessons virtual when physical learning had to come to a stop. The staff maintain active and kept an open line of communication to keep the school going. We didn't hesitate to reapply to send our oldest to WEM again along with our second child to start preschool at WEM for 2020-2021 school year. They offered an option to attend school physically or virtually. WEM shared the upgrades in the classrooms, the plans for safety protocols and as parents we felt confident our kids would be able to safely attend school physically. I am gratefully to say now that school has ended – and from first day of school back in September 2020 to the last day of school in June 2021 there was no outbreak of COVID-19 in my children's classroom. We are so thankful for WEM and the staff/teachers for a safe school year. WEM has made learning fun and enjoyable, encourages (our kids/family) to think independently and to not only respect ourselves but others and the nature around us. We as parents are leaning from our children who are attending WEM.
Carrie Barrios
2021-05-04
recommends
Our son has regained his love of learning at WEM and is thriving! The campus is gorgeous, the teachers work extremely hard, and the students are kind and respectful. Our daughter will also be joining the elementary program next year, we can't wait! Our son attended a Montessori program in California for the pre-school years and it was amazing. When we moved he entered public school. The experience was okay but we could see his frustration growing each sequential year with the building reliance on computer based learning and lack of flexibility in teaching subjects aimed solely at satisfying state testing standards and not the student. We moved our son to WEM during the pandemic when it became brutally clear how underserved he was at public school. WEM has reignited his passion to be curious and the foundational skills he is learning will be able to carry him confidently through junior high and high school. If we had continued muddling through public elementary school we feel that would not serve him well in the upper grades. WEM has definitely changed the trajectory of his school experience.
Carly Becerril Geiger
2021-04-26
recommends
WEM was an amazing school for 2 of my children. Both of them loved it from the beginning. The school has beautiful surroundings for the kids to be in, the structure is good with teaching the kids to be independent and responsible while the kids are learning, the teachers were kind and still to this day, I see my kids use things that they learned from WEM in their every day learning and life. I do honestly think that this was the best path for my kiddos and just wish I had known about it when my oldest was little and could have had the advantage that my two youngers did. The staff at the school was very kind and would communicate well with me whether it was something great my kid did or something that my kid needed to work on, which as a parent I appreciate hearing both sets of feedback instead of only hearing from a teacher when the kiddo is "bad". I 100% would recommend this school to anyone who is looking. It served us well for 3 years and I treasure the opportunity my children had to go there
Santhosh Nedukanjirathingal
2021-04-21
recommends
Why WEM? As a parent , myself and my wife were very particular in an education process for early childhood to be a very enjoyable process for the kid. Enjoyable, with the right environment, inside and outside, right teachers who are connected to the children, right tools, right exposure etc. WEM has it all and one more thing I noticed in the last 1 year of pandemic is that how the whole staff came together and brought the confidence on parents in opening the school during pandemic meeting all the guidances and requirements, and being very open. My child enjoys every day .. she looks forward to the next day.. she tells me about her friends and things she learned.. a happy child.. isn't that what a parent wants?
recommends
We love Whole Earth Montessori School and highly recommend it. The beautiful serene outdoor space sets the tone for a wonderful nurturing environment. Our daughter has been at Whole Earth Montessori School for only a few months but we can already see so many positive changes in her growth and development. She is incredibly happy and she absolutely adores her teachers. She looks forward to going to school everyday. It has been astounding to watch her gain such a tremendous amount of knowledge in a very short period of time. The Early Childhood Development program at Whole Earth has far exceeded our expectations. We are also really impressed with the communication every step of the way. We are well informed about what is going on. We are so excited about our younger child going to this school next year.
Jannah Curtis Thomas
2021-03-03
recommends
My son has been attending the Pre-K program at Whole Earth Montessori since November of 2020. We have been overwhelmingly pleased with all aspects of WEM. Our son is thriving academically and personally. We love hearing all of the things he has accomplished during the day and we love how he is teaching us about his lessons. Among many strengths, WEM ensures that we as parents understand the curriculum our child is learning and how we can reinforce learning at home. This has been invaluable to us as parents. The entire staff is amazing and there is no doubt they care deeply for each child and family. His teachers are truly knowledgeable about early childhood education and development, not just academically, but socially and emotionally as well. Our son begs us to go to school! He feels loved and has developed a true love of learning. WEM has given our son the ability to accentuate his strengths and build character as they lovingly guide him along the way. We could not be more pleased with Whole Earth Montessori and would HIGHLY recommend this school!!
recommends
I actually went to Whole Earth Montessori from preschool all the way until 6th grade. i am now a freshman in college and i think this school i what prepared me for high school. i loved all of my teachers and all of the activities we did as a community. I had Kathy as my upper elementary teacher and to this day i still think she is one of my biggest role models as a teacher. This school is all about helping you find your own learning path and i was never rushed to understand something. i could always get help if i needed and i felt like the teachers were really engaged with everything that we were doing. i loved having a smaller class size because we got more one on one time with our teachers. i really miss all of my old teachers and i loved this school so much. i'll also include some pictures of my time at whole earth and some great school year pictures of me being super shy.
Inesse Manucharyan
2020-02-03
recommends
I am really happy to write this review because you seriously can't find a better school and better administrative staff than what we found at Whole Earth Montessori! We should call this school Whole Earth Gem because it is a Gem! We are so very pleased with this school, the amazing staff, the wonderful teachers. I can't express enough gratitude for doing what they do every day for our children!!! The love and interaction my children get from their amazing teachers is just out of this world. the incredible teachers spend so much time nurturing and educating our kids that it shows as soon as they come home. They come with a big smile on their faces and talk about how much fun they had with their teachers and how much they love them. I am pleased that the teachers are highly qualified in the Montessori teaching method. The school is very thorough and great in their communication to make sure parents are well aware and up-to-date on happenings of everything. For me, personally, most importantly the care and love my kids receive from their amazing teachers is just what makes me choose this school over any other. WEM teachers and the administrative staff have really become part of our family. They are so warm and welcoming and I just can't say enough great things about WEM, it's simply the BEST school out there and we are so glad that we are part of WEM.
recommends
You can"t find a better school